Elementor is one of the most popular WordPress page builders in the WordPress community. It offers users a unique web design experience. In addition, there are a ton of Elementor addons that extend the core of the plugin even further. This article will give some examples of the best Elementor addons that you can install even on the free Elementor version.
Elementor VS Elementor Pro
Elementor does not need to be activated on your site to be able to add an addon. But I think you maybe haven't integrated Elementor with WordPress yet. If not, then, go quick, install Elementor.
First of all, just to refresh your memory, in the free version, you have access to 30 essential, 10 basics, and 20 more advanced widgets, and more than 100 templates.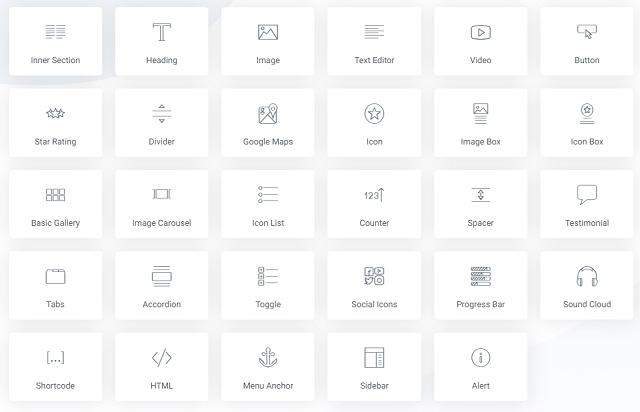 Elementor is also available in a pro version.
Important point: Elementor Pro is an extension of Elementor, so you need to have Elementor installed before.
Obviously, when you want to upgrade to the free version of Elementor, it's the first addon you think of. It may be enough for you. The rate is $ 49 / year for 1 site. It goes to $ 99 / year for 3 sites or $999/year for 1000 sites.
Indeed, you will benefit from twenty additional widgets and 150 free and pro Elementor templates.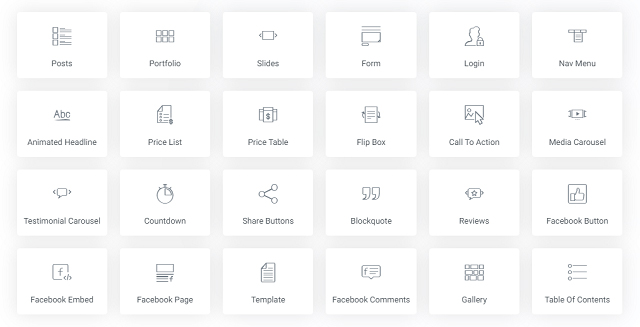 You will also have access to widgets to customize your theme :

And, that's without counting specific WooCommerce widgets :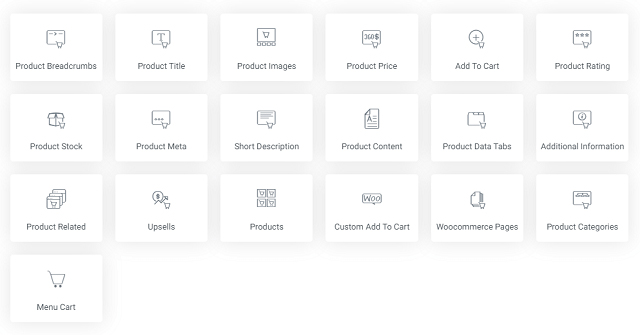 Upon reflection, I find Elementor to be a real gem. But sometimes you need to make a specific layout. So, we dig into the widgets provided, and, unfortunately, we quickly realize that we do not find our happiness.
So how do you fix this problem quickly?
I first put on my boots, put on a hat, and was armed with a large sieve. Then, I went to explore this long river called the web in search of nuggets to add to Elementor.
I did not come back empty-handed. Look at the 8 treasures that I brought back and that I am sharing with you: the best addons for Elementor.
Ultimate Addons for Elementor
The call price is $ 69 / year or $ 249 for a lifetime license including 44 free templates. There is also the "mini agency pack" at $ 169 / year or $ 499 for a lifetime license. It includes more than 55 pro templates in addition to the 44, Astra Pro Addon, and the WP Portfolio plugin.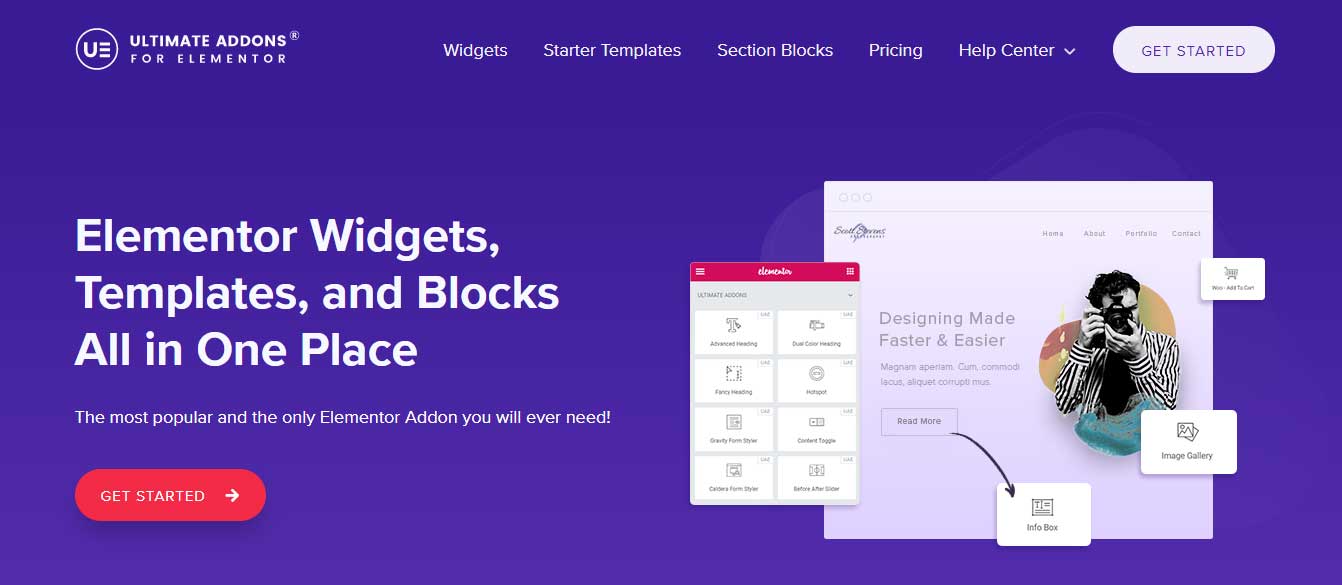 First of all, there are some pretty basic widgets:
In case of your images or videos, you will find galleries, a video player, and a Retina image widget, but also the possible display of two superimposed images for a before/after style comparison, and also, the Hotspots widget which creates points whose contents are revealed on the flyover.
For your activity, you have access to widgets to display the opening hours, present your team or your members, or even specify your location with Google Maps.
For the presentation of your products or services, everything is planned: responsive tables, catalogs or lists, details of offers, countdown, pop-ups, as well as several modules for WooCommerce to personalize your products, categories, and your "add to" button. basket".
Small useful details: You can include an FAQ section on your site, but also, automatically integrate a table of contents and finally, create a mega menu.
But, it is obvious that some widgets stand out. Indeed, it is possible to style the Contact Form 7, Gravity Forms, WP Forms, and Caldera Forms forms. You can also present your blog posts as a carousel, timeline, or other, with the possibility of filters and pagination.
There are also interesting widgets to personalize the titles. I am thinking more specifically of:
Dual Color Heading allows mixing 2 colors, 2 fonts, and much more
Advanced Heading that highlights them with dividers
Fancy Heading that animates them in typewriter style
And, you will appreciate the toggle buttons, which are handy, for example, displaying monthly/annual prices dynamically.
Besides, I must admit that I am particularly fond of the "Particle Backgrounds" widget to integrate interactive particle backgrounds.
Elementor Extras Addon
Elementor Extras Addon is only available in the premium version. Its cost is $30/year for a site, $75/year for an unlimited number of sites. The lifetime license with unlimited activations will cost you $150.
With this one, it is nevertheless 31 widgets and complimentary extensions that will be added to those of Elementor.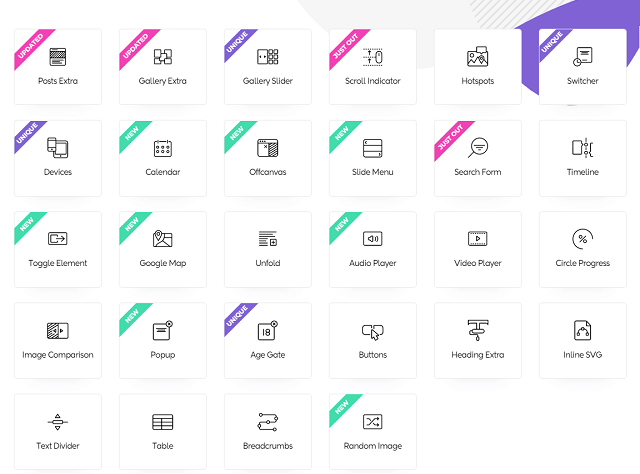 Extras Addon offers unique widgets like:
Age Gate, which asks for confirmation of age in order to restrict access to your site or a specific page, useful for sites in certain niches
Devices, to present content in mobile/tablet/computer frames, all in all, perfect for site builders,
Switcher, which allows you to create scrolling photos and text using over 25 transitions
In addition to the usual widgets (timeline, tables, the styling of blog articles…); there are also original modules.
For example, we notice an improved "Read more" widget, which reveals content on click as on news sites. Also note the existence of many image widgets, carousels, or galleries that will allow you to customize your site in an innovative way.
WPBoffin's favorite widget :
Display Conditions, which allows you to configure the display of content according to various conditions. Various scenarios are possible: user logged in or not, page, date and time, etc.
Tooltip Trigger Events, with which you can associate tooltips to any HTML element.
Premium Addons for Elementor
Premium Freemium Addons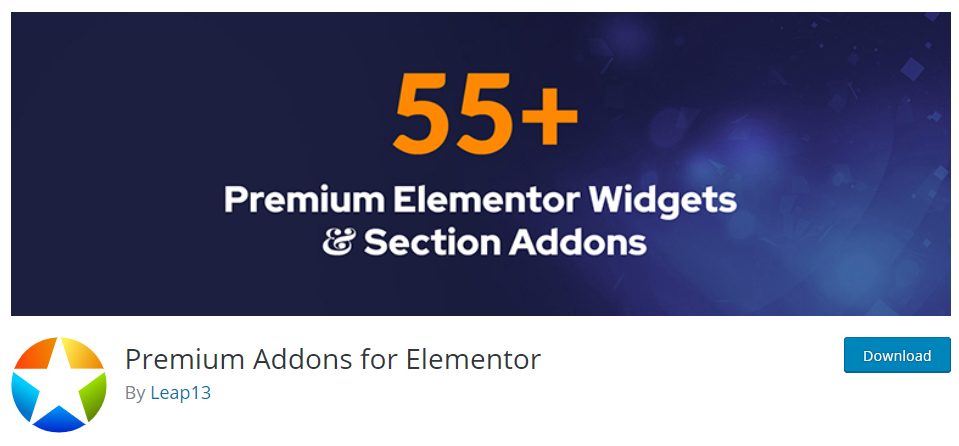 This addon is present on wordpress.org and adds 22 widgets to of Elementor.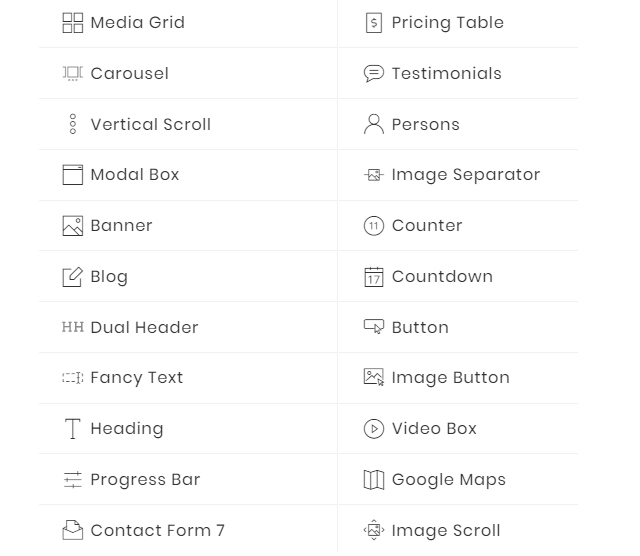 With the free version, you can personalize your content and images very extensively. In addition, you have access to section templates.
Do you want to create a wow effect with your visitors? Style your titles by mixing two different fonts or colors in the same header. You can also consider adding image backgrounds,  text shadows, or borders to them.
Do you feel the need to incite action? The buttons can be declined in various ways. For example, add a background image or associate them with popups that open by clicking on them.
On the other hand, for a one-page site or a long homepage, you have the option of installing page navigation.
Your business is also in the spotlight. Indeed, widgets exist for the presentation of your team, but also, for the publication of testimonials or the prices of your products or services. A progress bar, a countdown, a counter with top customization possibilities are also present.
In addition, if you use Contact Form 7, bingo: a stylization of the form is offered.
WPBoffin's favorite widget: You can create a super cool vertical scrolling effect on images with Image Scroll.
Premium Addons Pro
Premium Addons is therefore also available in a pro version.
Here, the rates are $ 39 / year for one site, $ 79 / year for unlimited sites. The lifetime license is possible for an unlimited number of websites for $ 199.
To date, more than 180 section templates are available in order to create your pages more quickly.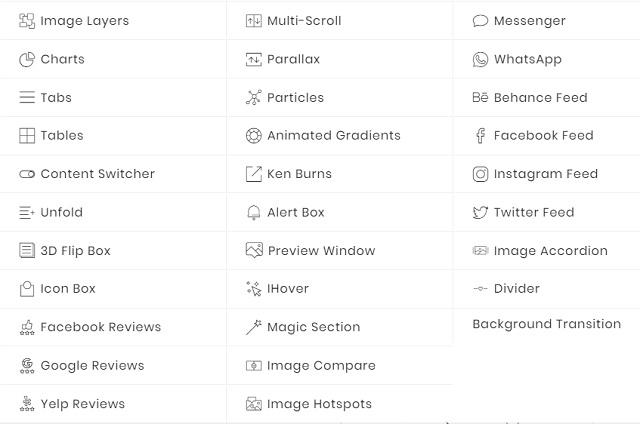 Essential Addons for Elementor
Essentials Addons for Elementor Lite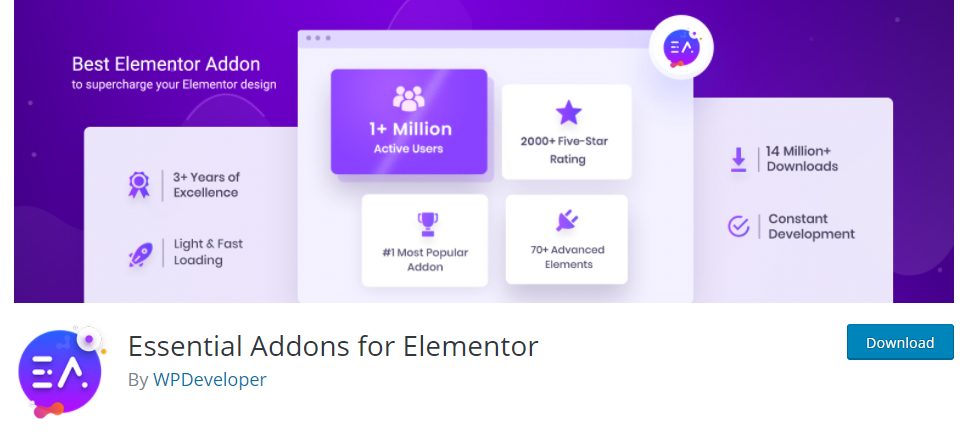 It is present on the official directory and offers 35 widgets for Elementor. Again, there are a lot of widgets that will help you enhance your site.
Essentials Addons for Elementor is one of the best Elementor addons. It offers 4 different styles for the presentation of the blog, as well as a timeline mode.
The contents can be put forward in inboxes. But, for a more fun effect, you can use flip boxes. Flip boxes are, in fact, two-sided interactive boxes that come to life with the hover of the mouse and reveal a second content. The available effects are right, left, up or down flips or zooms.
And then, if you like the news style, try tickers that scroll text like a ticker.
In order to provide better readability, you can opt for textual information tabs or a reading progress bar.
Another interesting widget, the filterable image gallery, will allow you to display personalized content according to the choice of the visitor.
It is visually configurable in various ways: tab system or search bar by name and filter by category.
For this purpose, it will be enough to sort your images by assigning them distinct categories or an identical name for a group of images.
Regarding your products, WooCommerce modules are available. You will also find price tables and their details, a countdown, a counter, and various buttons.
WPBoffin's Favorite Widget: There is one widget that I find really cool, it's Tooltip. We apply it to a text, an image, or an icon, and presto, a tooltip pops up when the mouse has hovered.
Essentials Addons Pro
The price of Essentials Addons pro is $ 29.97 / year for a site, $ 59.97 / year for an unlimited number of sites, or $ 199.97 for a lifetime license with unlimited activation with, as a bonus, the BlogVault plugin that will allow you to save and migrate your sites.
More than 100 templates and sections are expected, but as of yet, there are none available.
In addition to the 35 free widgets, 29 pro widgets are added. So that's more than 60 additional widgets that cover almost all the needs of a complex website.
Want to personalize your content? No problem :
To get started, showcase your team, client logos, and testimonials in carousels.
Then display your address with Google Maps.
Finally, present your articles in blocks, in a simple list, in the form of a carousel, in a timeline, or even in a gallery with filters and search.
What's more, the highlighting of your WooCommerce products has not been forgotten. It is indeed possible to display them by category, kinds of colors on any page.
Do you want the display of your text to be more attractive?
First, pop up information in tooltips or text separately from an image with one click. Or, make two different texts appear with a toggle button or even off-page content.
Likewise, style your horizontal or vertical menu and integrate section navigation and dividers with an image, icon, or text.
Or, view Instagram and Twitter feeds and even your newsletter signup form that you created with Mailchimp.
Do you want more originality? Turn to interactive 2 in 1 image, before/after images, or even hotspots whose points of interest reveal content when you hover over them.
WPBoffin's Favorite Widget: Using the Learndash LMS? A module is present to present the courses that you sell.
PowerPack for Elementor
PowerPack Lite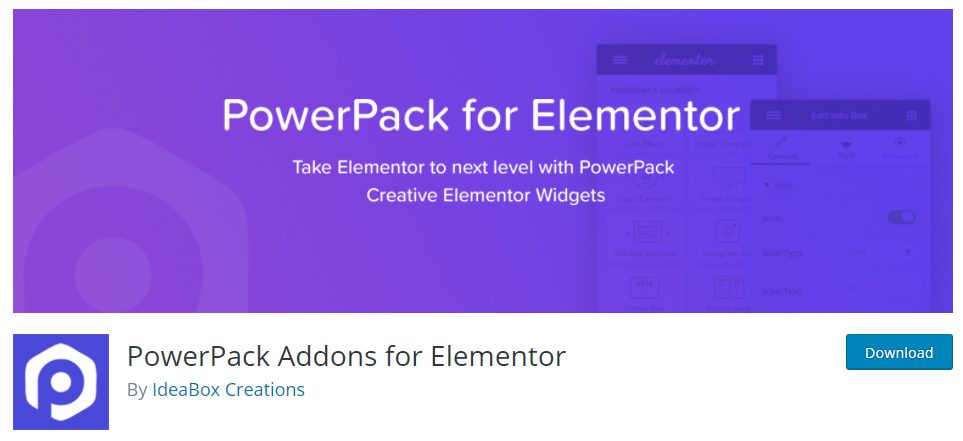 The Powerpack Lite gives you over 30 free Elementor widgets.
Do you want to talk about business? Let's go:
The presentation of your team can be made, in a basic way with photos, text, and if necessary social networks, but also in the form of a carousel.
It's also easy to showcase your products in a block, carousel, list, or banner.
If you are more service-oriented? There are counters and price tables.
Multiple content widgets are available, such as customizable buttons, the option to integrate your text in blocks, in advanced accordions, in flip boxes, or in tickers, but also the customization of titles by highlighting words or the mix of colors, fonts, borders.
Again, forms created with different popular plugins like Contact Form 7, Gravity Forms, Caldera Forms, Ninja Forms, or WPForms can be styled.
But, what does the pro version offer us in addition?
PowerPack Pro
PowerPack for Elementor Pro is available at $ 69 / year for unlimited sites or $ 249 for a lifetime license with unlimited activation.
In addition to the 30 free widgets, 20 pro widgets and 7 WooCommerce specific widgets are added, so that's more than 60 additional widgets.
As with the other addons for Elementor, many widgets are available to enhance your site: Google Maps, countdown or button customizations, presentation of reviews, customizable titles, tables, section navigation.
Original hover effects for both links and content are very appreciable.
For blog posts or other content, you have the choice: a horizontal or vertical timeline, but also innovative photo wall or magazine-style slider layouts.
In order to present monthly/annual rates, for example, choose the toggle button. To attract attention, display your content in popups or even distribute it under a system of highly customizable tabs.
What about images and videos? The right widgets are there: video player and gallery, gallery, slideshow, carousel, or image showcases.
WPBoffin's Favorite Widget: For your business, 7 handy WooCommerce modules are included. For example, on the shopping cart page, you can change its appearance, also present it as a sliding panel and add the "shopping cart" icon to the header of your site.
The Plus Addons for Elementor
The Plus Addons Lite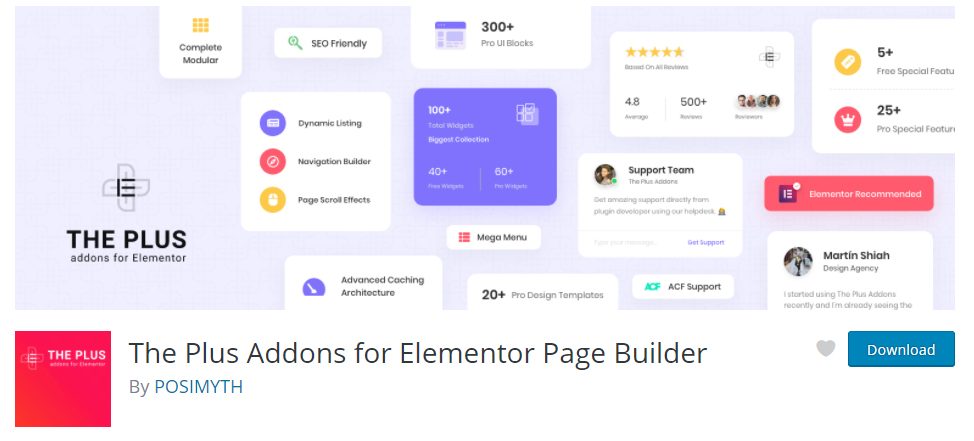 Well, the Plus Addons Lite offers you 26 widgets, it is already a good base.
First of all, for the presentation of the content, you will find advanced text blocks, boxes, flip boxes, accordions, quotes, and tabs. Specifically for your blog, you have the choice between a grid, masonry, or other aspects.
Regarding your activity:
The presentation of your customers can be done in a grid or in a masonry look. The same goes for your team and for testimonials.
You can optionally and easily style the Contact Form 7 that you have created.
You also have access to price tables, a counter and a countdown, and of course to a personalization of your buttons.
WPBoffin's favorite widget: the smooth scrolling effect for the pages. It is scrolling navigation evoking an impression of very smooth sliding with varied and impressive effects.
The Plus Addons also exist in a pro version: let's see what they offer us.
The Plus Addons Pro
Annual prices for the pro version start at $ 39 for one site. You can also go for the lifetime license, which starts at $ 99 for one site.
With the premium version, 60 widgets are added to the freemium version. So more than 80 widgets are divided into sections:
PlusEssentials cover basic widgets,
PlusCreative, creative layouts like image styles, text styles, etc.
PlusTabbed, accordions, tabs,
More Sections, Backgrounds,
PlusAdapted, third-party widgets such as contact forms, Google Maps, etc.
PlusListing, all widgets for content personalization like blog posts, WooCommerce products, testimonials, team members, customer lists, image galleries, etc.
Overall, all Elementor widgets have been redesigned and improved to add more modern and simple options and effects. In short, they cover just about all site creation needs.
WPBoffin's favorite widget: You will also have access to PlusDesign which includes 18 templates, but also more than 300 blocks of sections that you can integrate directly into your site without the hassle.
Crocoblock

Crocoblock is not an addon like the others. Indeed, it is a set of packs that you can buy individually according to your needs.
Here are the price details:
Design (special content): 11 plugins at $ 49 / year for 1 site or $ 69 / year for an unlimited number of websites
Multi-tool (for complex sites): 15 plugins at $ 69 / year for 1 site or $ 99 / year for an unlimited number of websites
WooCommerce: 15 plugins at $ 69 / year for 1 WooCommerce store or $ 99 / year, unlimited websites
The 18 unlimited packs and websites: $ 229 / year or $ 499 lifetime
By purchasing one of the packs, you also have access to the WordPress Kava theme as well as more than 50 page or section templates available via the Magic Button included in the JetThemeCore plugin.
To access it, you just have to open an Elementor page and click on this button to open the pages and sections library and thus make your choice of the model instead of starting with an empty page.
It is therefore one of the most complete addons, with more than 150 integrated widgets through several dedicated extensions.
Indeed, there are several original modules, such as:
Many WooCommerce widgets build pages very precisely, with features such as product comparison or wish lists.
Or, very advanced dynamic content widgets to format sites using custom fields or ACF very easily.
Important: some extensions are available for free for you to test. Do not deprive yourself of it:
JetSticky For Elementor, perfect for creating sticky headers and blocks,
JetWidgets For Elementor which includes the creative widgets needed for the site,
JetWoo Widgets For Elementor, specific for WooCommerce.
You May Also Read: How to Fix Internal Server Error in WordPress
Unlimited Elements for Elementor
Unlimited Elements freemium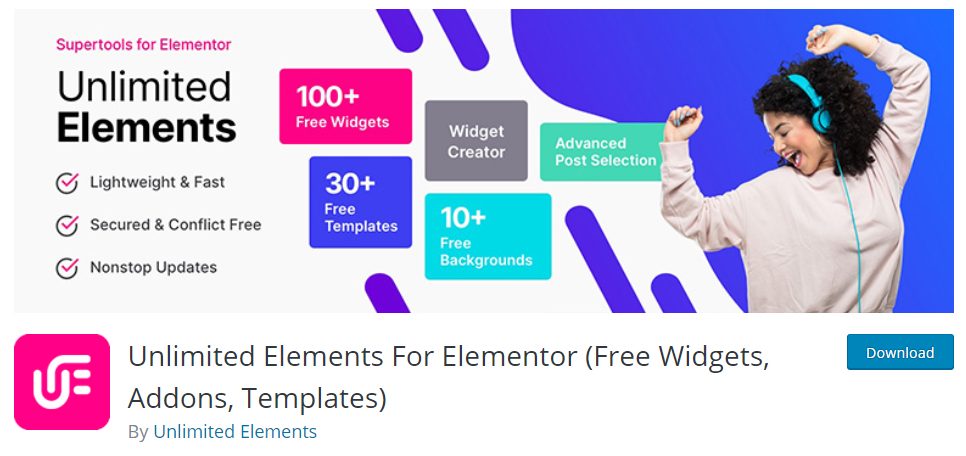 The Unlimited Elements for Elementor offers more than 100 widgets.
The presentation of the posts is highly customizable. You have the choice between sliders, galleries, a "Featured" style allowing you to scroll through the posts on a banner such as the latest news from TV news, timeline …
It is the same for titles, buttons, presentations of team members, testimonials and comments, logos of customers or partners.
Creative widgets are also present: timeline, countdown, counter, progress bar, different blocks for quotes, and more.
On the other hand, for the presentation of the images, you are spoiled for choice: hotspots, accordion, before/after.
Likewise, for your marketing, there are original buttons that encourage conversions, such as those for calling, texting, chatting on WhatsApp or FaceBook.
In addition, I find the different display and hover effects for texts and images interesting. The possibility of displaying images in shapes other than the square or the circle is original.
WPBoffin's favorite widget: Definitely the Creator widget. It allows you to create your own widget just with HTML code, CSS, and a bit of JavaScript as needed.
Obviously, Unlimited Elements is available in a pro version and this is what it offers us in addition.
Unlimited Elements pro
Unlimited Elements Pro version offers 2 prices: an annual price starting at $ 39 for a site, and a lifetime price starting at $ 99
In the pro version, it is more than 200 widgets to which you will have access.
In addition to those of the free version, there are widgets:
Presentation of articles (grid, table, slider, carousel, accordion, tickets, timeline, and gallery),
The stylization of texts (3D effects, typewriter, gradients, etc.),
Creation of image galleries (grid, slider, carousel, wall),
presentation of content (box, accordion, carousel, table, list, banner, bulleted list),
Media (audio players, audio playlists, video players),
And extras (effects for icons, links, images, before/after image, logo grid or carousel, etc.).
If you want to see the detailed list, do not hesitate to consult it.
Important points: this addon is compatible with the custom content types and fields of the PODS plugin, but also with the field repeaters and the gallery field of Advanced Custom Fields.
A little info for developers: since the Creator widget is powered by the Twig template engine, you can create custom filters and functions in Twig in order to integrate them into PHP.
Conclusion
Looking at it more closely, we quickly realize that most of the addons have more or less the same functionalities. On the other hand, some offer almost revolutionary widgets.
Personally, I recommend that you should test a freemium addon first to see whether or not it is sufficient for your use. And, to be honest, of the eight Addons studied, my preference is Unlimited Elements which I find really complete, even in the free version. Indeed, it already contains 100 widgets which cover a lot of needs.
Then, it's up to you to invest in a paid Elementor addon if you flash on several of its widgets. You can favor those that have lifetime prices and those that offer page or section templates. In this game, I think The Plus Addons would be my favorite.
As you know, the abuse of plugins harms the health of your site. It can affect the loading speed of your pages. So I advise you to limit yourself to your needs.
Now, the hardest part for you will be to find the best Elementor addons according to your budget and your needs. Please give your feedback to us about this article. And if you have any queries, notify us by commenting below.